.
"Tonight is not a jiggy night, tonight is Rastafari Night!"
(Janine 'Jah9' Cunningham)

.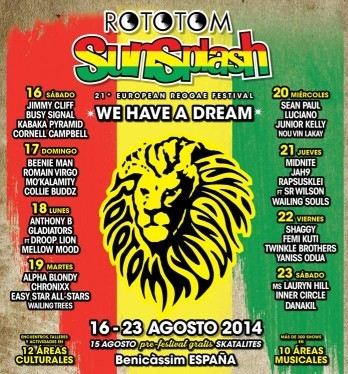 This summer, we head to Spain again for our 4th visit on Europes biggest Festival, when it comes to celebrating Reggae Music:
Born in the hills of Udine (Italy) in 1994 the Rototom Sunsplash moved to Benicassim in 2010 due to conflicts with Italian law and has evolved to one of the biggest and most progressive Reggae gatherings worldwide since then.
Besides a whole heap of stage shows, there are many attractions in music, education, politics, health & lifestyle going on between camping side and the beach, night & day – diversity, for which this festival has become quite unique over the years.
This years 21th "we have a dream" edition was enlightened by Reggae Revival's humble & talented youths from Kingston, Jamaica in the first place, while the three commercial "headliners" Sean Paul, Lauryn Hill & Shaggy (tons of shame on him, to signal the word "motherfucker" on a Reggae show ) – didn't spark at all…
"Music is a mission, not a competition" Kabaka Pyramid & Chronixx remined us the other night…
At Rototom Festival, this spirit is implemented truly from the beginning (please don't ruin it, by putting quantity over quality in your upcoming lineups).
.
…but now, let the pictures do the talking – enjoy! –>
.
.
…enjoy the whole festival site on our last year's skatetrip –>